News & Events
09-Feb-2010
Team ATLANTA at WITTUR Booth during Elevator Expo held in Mumbai from 3rd to 5th Feb-2010, WITTUR Supply State-Of-The-Art world class door systems to 'ATLANTA'
25-Sep-2007
Atlanta launches the world-class design Glacier Series of Escalators & Travolators
Events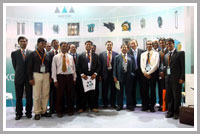 Welcome to Atlanta Elevators
ATLANTA ELEVATORS has emerged as a modern enterprise on the horizon of the Indian elevator industry. Atlanta's products are manufactured in the state-of-the-art dedicated manufacturing facilities located overseas and in India. Our main business scope is in providing elevator door systems, traction machines, cars(MS, SS, GI), safety components and complete range of Escalators, Travolators and Passenger Conveyor Systems. With focused marketing strategy Atlanta has increased its target by over 50% annually.
By "Raising Perfection to Greater Heights". Atlanta strives to give you the best through mutual trust, by involving management, employees, vendors, customers and shareholders to share a bright future ahead "Trust Leads to Future."
The company's compliance to comprehensive business principles has led to excellence in a range of products and services to our satisfied customers by establishing customer centric relationships with domestic and overseas business partners.
Besides offering custom built elevators to suit special environmental conditions, Atlanta Elevators find their application in Residential, Apartments, Retail, Commercial, Industrial, IT, Hospitality and Institutional sectors.