Products
Jade Series
Glacier Series
News & Events
08-Dec-2008
Glacier Series - Escalators, Travolators and Passenger Conveyors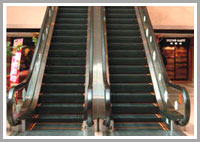 Atlanta Elevators has launched the Glacier Series of Escalators and Travolators. These are products of world class design and manufacturing standards. While incorporating the latest safety features, both regular and optional, the the opulent styling of Atlanta Escalators and Travolators enhances the ambience of the places where they have been installed. With the for energy efficient VVVF drive, the running cost of Escalators and Travolators are reduced considerably. What's more, Atlanta Engineers and experts are available to you whenever you need any suggestion or assistance for choosing the most optimum configuration of Elevators, Escalators and Travolators. Rest assured, our recommended configuration will suit your exact requirement, and ensure smooth traffic at any commercial or public place.
The aforesaid ATLANTA products are available for both indoor and outdoor applications which are produced in the state-of-the-art overseas manufacturing facility. ATLANTA Escalators, Travolators and Passenger Conveyors Complying with German EN 115 Standards are available in varying specifications to suit both indoor as well as outdoor applications. These products have the following features: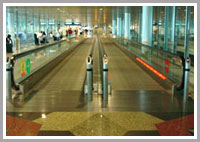 Escalators available with 30° and 35° angles of inclination.
Travolators available with 10°, 11°, 12° of angles of inclination.
0° Passenger Conveyors.
Steps and Floor Plates available in aluminium alloy and stainless steel as options.
Hand Rails with different color options.
Wide range of safety features both as standard as well as options.
Energy efficient drives with choices of speeds variation from zero to full speed.
Maximum rise up to 8 m for Indoor Escalators and 13 m for heavy duty Escalator.
1.5 to 6 m rise for Travolators.
Step width from 600 mm to 1000 mm for Escalators and 800 mm to 1000 mm for Travolators and Passenger Conveyors.
Passenger handling capacity from 4500 to 9000 persons / hour both for Escalators and Travolators.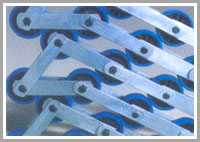 Regular Safety Features
Handrail Entry Safety Device
Anti Reverse Protection Device
Over Current Protection Device
Machine Non-Operation Reversed Protection Device
Machine Over Speed Protection Device
Step Broken Protection Device
Steps Chain Broken Protection Device
Comb Plate Protection Device
Motor Over-Heat Protection Device
Phase Failure / Reversal Protection Device