Products
Jade Series
Glacier Series
News & Events
08-Dec-2008
Global Series Home Elevators ( Lifting Platforms)
ATLANTA in its efforts to introduce continuously innovative products has launched lifting platforms which find an immense application in public and commercial buildings as well as private homes. Today, there is an ever-increasing demand for improved accessibility to public and commercial buildings and private homes. Building Owners, Contractors and Architects are actively seeking products which make these possible. Elderly and disabled people require solutions that allow them freedom of movement inside their homes. Keeping these needs in mind, ATLANTA has introduced uniquely designed lifting platforms in compliance with their needs.
The features of lifting platforms are as follows: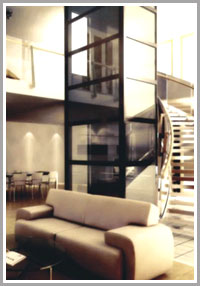 Can easily be installed at a place of choice like any other home appliance.
Enhances the overall ambience of the surroundings.
Do not need civil construction.
Can be brought to the nearest floor, if power fails.
Automatic door as option.
Entry and Exit on opposite floor openings, if desired.
Consumes less power compared to conventional elevators.
Low maintenance cost.
Perfect levelling.
No abnormal noise.
Compliance with German Safety Standards.
Pollution free equipment.
See through and self supporting tempered glass shaft (enclosure).
Passenger capacity up to 630 kg.
Power supply single phase up to 400 kg, 220V, 50 Cycles.
Travel up to 12 meters; cab be installed with pit ( 50mm) or no pit but with ram.
Car travel up to the terrace as option (with half glass door).